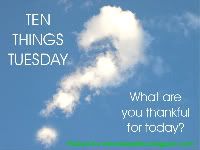 To see more thankful lists for the week or to participate, click
here

My list for the week includes.....
10. I'm thankful that play-doh, in small quantities, is not toxic.
9. The same goes for crayons
8. Really, what I'm saying is that, I'm thankful that Ewan hasn't yet injested anything that is toxic.
7. Moments of great thinking: We were looking for a babysitter for and I told Andy to go to the library and ask the librarians. He did, and the daughter of on the librarians is going to watch our kids Friday night while I work and Andy has a football game. She's really nice and we've already met her.
6. I love how Marcus runs to the door to greet me after getting off the bus from school.
5. (why am I counting backwards? I just realized that) The sand box site is dug out and Andy is working on leveling out the soil. This is tougher than it might be, b/c the soil is very clay-y and there are many little and not-so-little rocks mixed in.
4. Don't worry though, we have 3 little helpers that I'm quite thankful are willing to help break up the soil.
3. Marcus likes to sing and sang for me tonight. It's a song from his music class and he sang it over and over and over :-)
2. I love that Andy has a schedule currently that lets me sleep when I get home from work!
1. I'm thankful that Andy was trying to surprise me tonight by bringing home the 3rd season of
Monk
. It's one of our favorite shows and for some reason we have the other seasons on DVD, but not #3. He also has promised the first season of
Burn Notice
for me.....I'm so-o lucky :-)