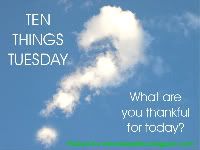 My list for this week is just 10 things I'm thankful for/love about fall. Here goes....
1. Cool days/cool nights-I got out my down comforter last night and slept with the windows open to let in that cool air.
2. As a redhead, fall colors fit me best.
3. Apple orchard field trips.
4. Pumpkin patch field trips.
5. Crockpot recipes.
6. Football all the time-high school, college and NFL.
7. Leaves to play in.
8. Almost done having to worry about mowing the yard.
9. Sweaters, jeans, and sandals-my favorite outfit!
10. Fall leads the way to fun activities-Halloween, Thanksgiving and Christmas!
To see more thankful lists, go over to the
Xbox wife
!